Digital adds a new outlet for production
By David Zwang, Principal Consultant, Zwang & Company 

The packaging industry is gearing up for the long-awaited growth spiral in digital production, which will have far reaching benefits.
As more and more digital presses come on stream, the market recognises that it's not about digital replacing analogue equipment, it is giving customers a better toolset.
Digital is complementary to flexo or offset – not a like-for-like replacement – and enables converters to liberate their presses to be more effective.
The whole digital evolution is just a part of the industry's transformation and transition to the real end game – purpose-built or bespoke solutions.
Production inkjet corrugated and folding carton press development and installations are ramping up, which is why I was looking forward to discussing the latest trends with Robert Stabler (MD, Koenig & Bauer Durst).
He is somebody who I have known for many years and was delighted to catch up with at PRINTING United for a WhatTheyThink video discussion, which you can view here.
The highly automated products from the Koenig & Bauer Durst joint venture company are impressive!
One big benefit is modularity. This provides an increased ability to build application-specific solutions, which is what packaging is all about.
While digital may not be the solution for all print and packaging production, it will undoubtedly continue to grow.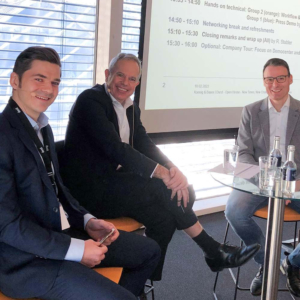 https://www.koenig-bauer-durst.com/wp-content/uploads/2023/02/koenig-bauer-durst.png
0
0
Colin Shaw
https://www.koenig-bauer-durst.com/wp-content/uploads/2023/02/koenig-bauer-durst.png
Colin Shaw
2023-04-14 08:24:41
2023-04-14 08:24:41
Digital adds a new outlet for production