Printhead design to achieve highest productivity

Guest blog by Wolfgang Knotz, Head of R&D, Durst Lienz

The first steps into digital print production can be a challenging time for a print packaging operation.
After assessing the many business benefits for cost effective short runs, a converter entering the world of digital packaging production will want assurances that new production capabilities can be adopted as smoothly as possible.
Customers will want to know that while the folding carton and corrugated packaging markets are ripe for digital transformation any technology adoption is fully supported.
At the heart of delivering the best print performance is identifying the right printhead solution for the application environment.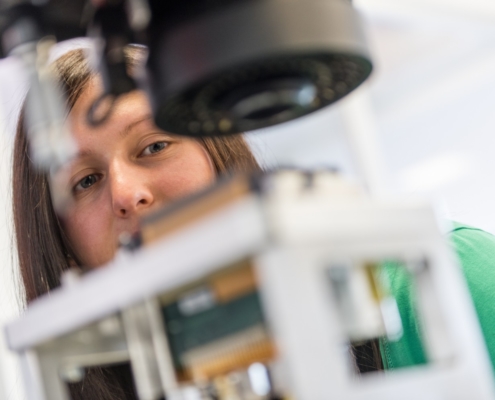 This is why Durst has been stitching four heads together for its multi-pass wide format printers to create its Quadro head array. For example, the single-pass SPC 130 uses a full width print bar of 1,285 mm and groups six heads within a print head module together for a six-head Quadro array. This enables the highest level of quality and precision in digital printing.
This supports easy calibration as all six printheads can be adjusted together on a high precision measurement machine in-house. A service engineer arranges one set of six for the mechanical alignment and then the six printheads are very precisely set inside the whole colour row. That minimizes the effort of mechanical adjustment per printhead at customer sites allowing for higher levels of productivity.
For corrugated printing we wanted to create a printhead array that can run in very harsh conditions. Not every operation can create a laboratory-like environment when entering digital print, so we wanted to develop a system that can handle the same conditions as the neighbouring offset and flexo presses.
Before making the decision over the specific printheads required, we consider areas such as head media distance and drop size to ensure we have the quality level that is required.
Driven by the mantra of innovation, we offer complete solutions from pixel to output – all in a sustainable way. And having the right printhead solution is all part of the process.
Contact us to learn more about how printhead technology can help you get the results you want.
https://www.koenig-bauer-durst.com/wp-content/uploads/2022/01/durst-knotz.jpg
600
933
Helmut Kremers
https://www.koenig-bauer-durst.com/wp-content/uploads/2023/02/koenig-bauer-durst.png
Helmut Kremers
2022-01-26 14:27:49
2023-02-22 14:29:30
Printhead design to achieve highest productivity