Visible, tangible, perceptible – print is everywhere!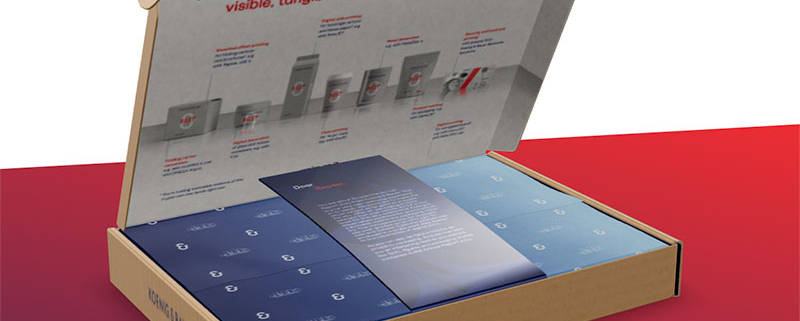 By Robert Stabler, Managing Director, Koenig & Bauer Durst
The old English saying, "Today's newspaper is tomorrow's fish and chip paper" has evolved…  these days, countless printed products could have once been a newspaper.

And that's certainly true for Koenig & Bauer's Annual Report 2021 recently published, which proudly states, "This box was once a newspaper".
"Print is everywhere – visible, tangible, perceptible" it says on the inside of the box (see above) containing your personal copy of the annual report.
Personalisation is made possible by our Koenig & Bauer Durst SPC 130, which was used for the 'unboxed' version being sent out to stakeholders across the world.
It is a phenomenon of our times that shows better than any other how the digital and analogue worlds are intertwined. A product ordered online is unboxed. And a camera captures the whole procedure. The video is uploaded to the Internet, watched, shared and liked.
Whether the camera is running or not – the star of the scene is the packaging. Packaging that displays a logo. Packaging that has been individualised. Packaging with a detail-rich design that only adds to the thrill of anticipation.
Packaging leaves a lasting impression. It is not only pandemic-resistant but also offers growth opportunities in view of the boom in e-commerce business and the rising demand for household-size food packaging.
The Koenig & Bauer Annual Report shows how such unboxing can also be used for high valued added B2B applications.
We, at Koenig & Bauer Durst, are proud to be at the forefront of digital production with our highly automated, efficient, food safe printing systems targeting the folding carton and corrugated packaging markets.
Contact us for further details on how we can you on your digital transformation journey.
https://www.koenig-bauer-durst.com/wp-content/uploads/2022/04/unboxing_star.jpg
600
800
Helmut Kremers
https://www.koenig-bauer-durst.com/wp-content/uploads/2023/02/koenig-bauer-durst.png
Helmut Kremers
2022-04-20 14:20:34
2023-03-09 12:29:51
Visible, tangible, perceptible – print is everywhere!