Zeit, von den Produktionsgewinnen der digitalen Transformation zu profitieren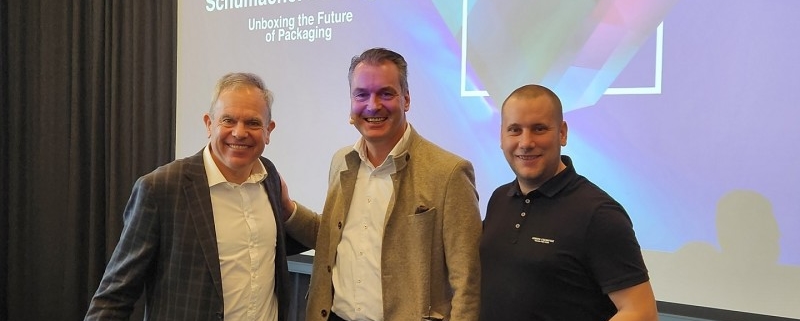 Time to benefit from the production gains digital transformation
Jochen Sproll, Business Development Manager, Koenig & Bauer Durst
A summary of the 7th SPC Open House at the Durst Innovation Center East in Lienz, Austria
Highly efficient production, job versatility, run length flexibility and operational cost efficiency. These were some of the transformative benefits of adopting digital print production in corrugated packaging explored at the 7th Koenig & Bauer Durst SPC Open House at the Durst Innovation Center East in Lienz, Austria, in February.
At the event, attended by more the 90 visitors, Robert Stabler, Managing Director of Koenig & Bauer Durst, detailed the digital value journey and illustrated some of the significant gains achievable that positively shape production capabilities. This included a focus on automation and standardization of processes with as few touch points as possible. Referencing a commissioned Fraunhofer institute study, he explored how attendees can better understand and optimize the total cost of the supply chain for their customers.
Other powerful calculations included TCO (total cost of ownership) of existing production volumes to evaluate whether an investment will pay off, where the volume break-even points are to ensure more accurate costings, and how the most effective technology utilization can be achieved.
These reinforced why, in today's rapidly changing marketplace, converters and brands are having to review their strategies and consider how they can better embrace digital production.
There were other benefits, too. Digital just-in-time print production can help reduce storage costs and obsolescence.
It is no wonder then, that in Koenig & Bauer Durst's customer base, 50% to 80% of volume over time is for new added value applications. They include:
Mass customization with different product versions easily made more attractive for customers.
Sequential barcodes for track and trace packaging and products for logistics and pharma packaging making labelling obsolete.
New product offerings on uncoated board thanks to the amazing print quality possible with an eco look and feel on cheaper substrates.
Test and promotional packaging as a result of lower minimum order quantities to enable new marketing offerings.
Robert Stabler shared case study information that identified how best to assess which jobs should be run on the SPC and which should remain on existing technology. It also looked at how to manage a larger number of jobs cost effectively, ways to lower costs for shorter run lengths and how cost savings can be achieved.
Among the highlights was the reporting of a break-even point between 6,500 square meters and 8,500 square meters and the potential to save millions of euros with a Delta SPC 130 single pass highly automated press – all in a highly sustainable way. Put simply, for shorter production runs of up to 8,500 square meters, digital printing is less expensive than current analogue methods. Moving these volumes to digital printing results in lower costs, faster turnaround time and much greater efficiency plus better utilization of existing plant machinery.
Just how this is made possible with Koenig & Bauer Durst technology was detailed during a press demonstration and a production tour. Highlights included an overview of non-impact printing – where fluid is transferred from the press on to the substrate without any pressure or touching of the board.
This has been achieved with two key technologies. First, Koenig & Bauer Durst has developed an inkjet priming system. Working differently to other primer solutions, operators have full control over the exact area where digital primer can be applied. It works similar to an additional separation and allows priming of "open flute" for premium packaging. More significantly, it enables converters to use a topliner that is 15-20% lighter and lower cost while still retaining all the necessary functional characteristics of the corrugated box.
Second, a special water-based, food safe and deinkable ink set has been developed with exceptional rub-resistant characteristics. This ink requires no Over Print Varnish and therefore no additional process that applies pressure or additional fluid to the board.
Attendees also learned how using digital primer has major benefits for print quality and creates opportunities for print embellishment on corrugated board, while at the same time reducing costs because lower-priced materials can be used in production. Up to 30% less ink is required. Orange and violet colours, were highlighted as having additional hugely positive impact on TCO (total cost of ownership) and colour gamut.
The event also shared news of a fourth machine order for Schumacher Packaging – this time in the UK. The plan is to have an all-digital plant in the UK, with the Delta SPC 130 the only printing press on site. It is the first six colour FlexLine Eco+ industrial production press to be installed. Among the major benefits are printing on uncoated with speeds up to 80 meters per hour, which equates to around 10 million sq/m for uncoated per year. The three other machines for Schumacher Packaging – two in Ebersdorf, Germany, and one in Wroclav, Poland – have also been upgraded to six colours, a decision driven by customers.
Attendees were keen to hear what Johannes Pieger, Digital Print Manager, and Jochen Drösel, Chief Sales Officer, had to say when they shared their insights regarding Schumacher's growth strategy as a pioneer for digital printing.
The event wrapped up with a panel discussion featuring Johannes and Jochen detailing how digital transformation is at the forefront of their efforts in the corrugated packaging industry.
https://www.koenig-bauer-durst.com/wp-content/uploads/2023/02/spc-130-open-house.jpeg
600
800
Helmut Kremers
https://www.koenig-bauer-durst.com/wp-content/uploads/2023/02/koenig-bauer-durst.png
Helmut Kremers
2023-02-22 17:10:44
2023-03-20 16:50:15
Zeit, von den Produktionsgewinnen der digitalen Transformation zu profitieren